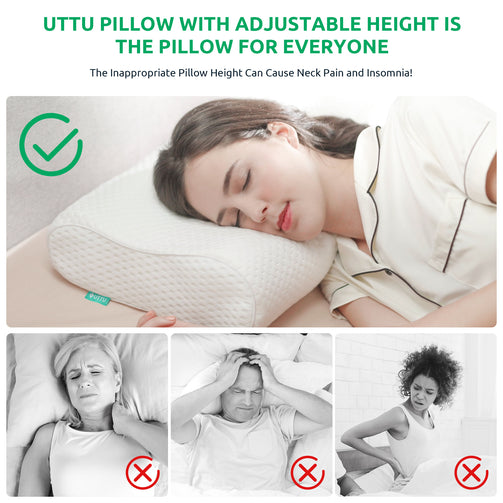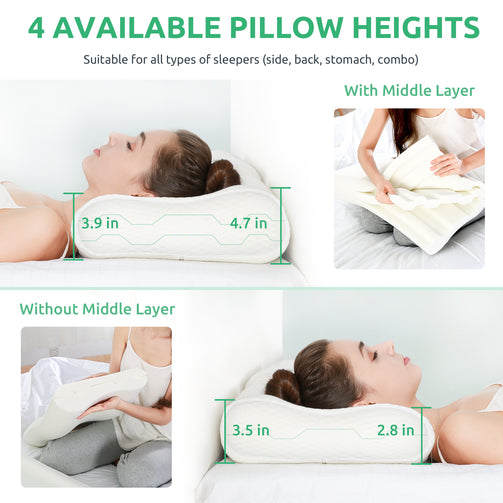 UTTU Sandwich Pillow-The Original Adjustable Contour Pillow, Designed for Every Type of Sleepers
UTTU Sandwich Pillow-The Original Adjustable Contour Pillow, Designed for Every Type of Sleepers
Regular price

$49.99

Sale price

$42.99
ADJUSTABLE FOR NECK PAIN RELIEF
UTTU pillow features unique adjustable lofts for varied types of sleepers. Initially with a 4.7in of high contour and 3.9in of low contour, removing the middle layer you'll get 3.5in of high contour and 2.8in of low contour.
PRESSURE RELIEF
Made with UTTU DYNAMIC FOAM, the premium patented memory foam, this bed pillow conforms to the natural curve of your body and supports your neck and head to ensure comfort.
NEVER BECOMES HARD
We used UTTU DYNAMIC FOAM, which never gets hard in cold weather. Unlike most memory foams on the market, it remains consistent with firmness and a comfortable feel all year.
BAMBOO COVER
This bamboo pillow has a cover of 40% bamboo viscose, making it a COOLING PILLOW for you to stay cool all night. Fully removable and MACHINE WASHABLE.
ITEM DIMENSIONS
23.6"×14"×4.7"/3.9", this ergonomic pillow is designed to fit different sleeping postures, you can sleep in comfort with UTTU whether on your back, side, or stomach.
Couldn't load pickup availability
This is THE pillow
I have been having neck and shoulder pain with sleeping, especially upon waking in the morning. I figured I needed a new pillow. I bought two others before I found this one on the internet. It is THE pillow!! It is soft and comfortable, but also supports my head well. I did have some pain at first with using this pillow, but finally took the middle part out. Since then, I've been sleeping well and waking up without pain! Thank you UTTU pillow!!
UTTU Sandwich Pillow-The Original Adjustable Contour Pillow, Designed for Every Type of Sleepers
Very Happy with UTTU
My pillow exceed my expectations and has greatly eased my neck pain.
PILLOW
For me the pillow is best with the mid section intact craddles the neck better. Pillow is good for side and back sleepers only ....not firm
Best pillow I have ever owned - bought 3 more!
I bought the last one of these that I added to my household back in April 2020. It's now January 2022 and I haven't had to by any other pillows since! Back then I bought 3 or 4 different kinds because I was tired of pillows that say "firm" at Walmart but go flat or just weren't firm to begin with)... the other 2 or 3 kinds I bought at the same time on Amazon to test out which would work for me did not work and I sent them back. This one worked! I sleep mostly on my back, also on my sides, and at first had sleep apnea, but due to unrelated changes in my life (not connected to the pillow) I don't anymore. Both ways, I was finally having the neck support I need with this pillow! The beauty of it is it returns to it's fluffed up shape and if you need that curve immediately while the other end reforms itself, you just turn the pillow. Only reason I would be buying more of these is because we want extra pillows, not because anything went wrong with any of the first ones I bought! My daughter and husband love them as well, hence me buying the additional 3 ASAP after the first one worked out so they wouldn't steal mine.
I will say if you don't position it correctly it may not help you, so make sure your shoulder is on the bed and the curve of the pillow is in the space under your neck! Don't be like my husband who sleeps with his shoulder on the pillow which completely defeats the ability of the pillow to do its job and support his neck so his spine stays aligned (and he is a side sleeper). I'm always making him adjust himself but either way he's very happy with it because he likes to sit up against his pillow in bed as well watching TV and this tends to crush all other pillows into flat or awkward shapes but not this one, it keeps coming right back to its shape! Love this! Only ones I'll use from now on!